Jasper's Gift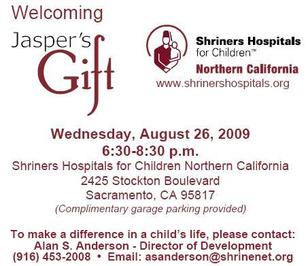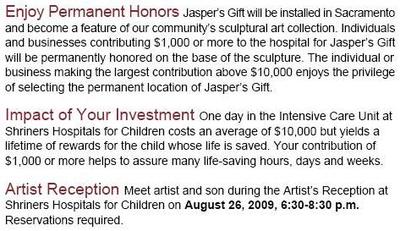 Date: Wednesday, 26 August, 2015
Jasper's Gift Reception
Wednesday, August 26
6:30-8:30 p.m.
Shriners Hospitals for Children Northern California
2425 Stockton Boulevard, Sacramento
Call (916) 453-2008 for details.
Reservations Required: Suggested Donation: $1000
Inspired by his son and the Shriners regional pediatric burn program, internationally-acclaimed sculptor Jean-Pierre Rives has created and donated an original sculpture to benefit Shriners Hospitals for Children & Northern California. Mr. Rives's son, Jasper, suffered a serious scald burn as an infant. Guests will meet the artist and his son Jasper, now 5 years old, at the artist's reception on August 26.
It's just one more way you can help make a positive difference in the life of a child.